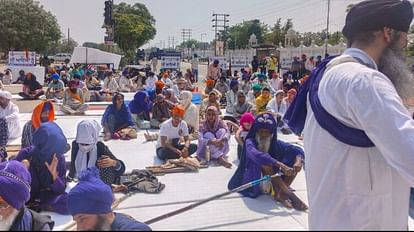 Demonstration demanding the release of Amritpal in Mohali
– Photo: Amar Ujala
Expansion
On Saturday evening, the Nihangs involved in the Qaumi Insaf Morcha, sitting on a dharna at YPS Chowk, shouted slogans with swords in protest against the action on Khalistani supporter Amritpal Singh. After this they marched towards Gurdwara Singh Shaheedan and blocked the Airport Road. After this, the one-way road was opened at 2.30 pm. According to sources, the Qaumi Insaf Morcha members went back to YPS Chowk but Amritpal's supporters continued to sit on the Airport Road. On the other hand, the airport road was blocked once again on Sunday morning.
Also read: Amritpal Singh: Police action against Khalistan supporter Amritpal continues, financier Kalsi and gunner arrested late night
There was a clash on the Mohali-Chandigarh border on February 8
The protestors have been sitting on dharna since January 7 at YPS Chowk for the release of the imprisoned Sikhs. On February 8, 2023, there was a violent clash between the Nihangs involved in the Qaumi Insaaf Morcha and the police at the Chandigarh-Mohali border. In this, along with Punjab Police, employees of Chandigarh Police were also injured. Since then, a large number of police forces have been deployed on the Mohali-Chandigarh border.