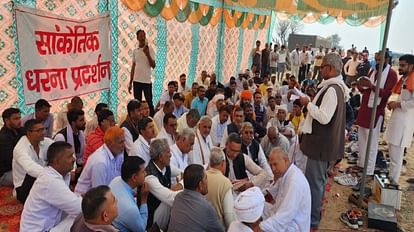 Sarpanch and villagers of different villages sitting on symbolic dharna.
– Photo: Amar Ujala (file photo)
Expansion
Panch sarpanchos did not like the government's formula of increasing the limit to five lakh in the case of e-tendering. Sarpanchs of all the districts of Haryana will gather from Shalimar Ground in Panchkula on Friday and march to the Vidhansabha for the demand of increasing the limit up to 10 lakhs. Meanwhile, a delegation of 15 Sarpanchs reached the residence of Panchayat Minister Devendra Singh Babli and talked about walking with the government.
A large number of sarpanchs are still against the government's decision. It will be clear from today's gathering of Panch Sarpanchos that what will be the direction of the movement. About 15 sarpanches reached the residence of Panchayat Minister Devendra Singh Babli on Thursday before the Vidhansabha gherao on Friday and expressed faith in the government to take forward the development work. Meanwhile, the head of the Sarpanch Association, Ranbir Saman, has termed it as a ploy of the government. He said that this is a cheap act of the government.
Sarpanchos who reached the Panchayat Minister's residence told the media after the talks that they want to work together with the government. The development work has been stalled for a long time. He said that those who are protesting will also work to convince them. Before this, the sarpanchs had a closed room talk with the minister. In this the minister asked him what is your next step? Sarpanchos said that they want development work in the village. The minister's question was that what about the association that is being formed? On the minister's question, the sarpanchos said that they should know what his thinking is. During this, Sarpanch Narendra Kadian of Wazirpur, Sarpanch Bakra village Surinder Kumar, Sarpanch Parveen Kumar of Paharajwas, Sarpanch Bhagat Singh of Tandaheri, Sarpanch Nilesh Kumar of Mandothi, Sarpanch Mahender of Mutton village, Sarpanch Vikram Dalal of Silothi, Sarpanch Manjit Malik of Daboda , Bhalgarh Sarpanch Rajesh, Pavsara Sarpanch Pankaj, Nathupur Sarpanch Saheb Singh, Badkhalsa Sarpanch Rakesh, Melody Sarpanch Parveen and other Sarpanchs were present.
Sarpancho said exposure visit should be given
Sarpanchos who came to meet the Panchayat Minister have also demanded an exposure visit. Their demand is that they should be given a chance to visit villages in other states. Whose expenses should be borne by Sarkar. So that he can develop in his village like other villages. The minister has assured to talk to the Chief Minister in this matter.
Tomorrow at 12 o'clock we will leave Sector 5, Panchkula for Vidhansabha gherao, those who went to the minister's residence, they cannot gather even 200 sarpanchs. Tomorrow all the gram panchayats will reach. Ranbir Saman, Sarpanch Association Haryana.