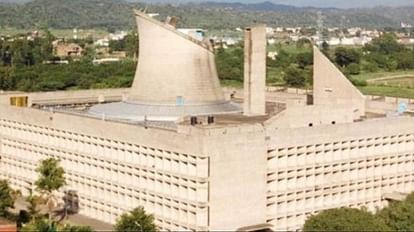 Punjab Legislative Assembly.
Expansion
Indiscriminate rigging has been exposed in Punjab during six years under MNREGA (Mahatma Gandhi National Rural Employment Guarantee Scheme). At many places the workers were not given their wages and at some places the contractors who supplied the goods were not paid. In many cases, money has been shown to be paid to people who have passed away.
Due to non-payment at many places, the contractors stopped the supply of goods and the projects remained incomplete, but the officials showed the projects as complete and absorbed the government money. At some places even a single brick of the project was not laid and the full payment was taken. The Comptroller and Auditor General of India (CAG) has disclosed this in its report presented in the Punjab Legislative Assembly.
According to the first report of the CAG, during 2016 to 2021, goods worth Rs 743 crore were purchased for various projects under MGNREGA, including construction materials including cement, bricks. 381.42 crore was not paid to the contractors who supplied these items, due to which the supplier contractors stopped the delivery of the remaining items and the projects remained incomplete. Despite this, the officers filed the report of the completion of the project. CAG officials visited the project sites and found that most of the projects were incomplete. In its report, the CAG, while recommending action against the concerned officers, has talked about the recovery of embezzled money.
The CAG has said in its report that officials failed to conduct door-to-door surveys to ensure the selection of eligible persons for the MGNREGA scheme and budgeted payments to laborers based on ad hoc data. During audit, serious deficiencies were also noticed in issue of job cards to eligible persons. It was found that in 14 panchayats several job cards were not only issued in the name of deceased persons but their attendance at work was also recorded and payments were also made to them. For this rigging, the CAG has recommended that the responsibility of officers should be fixed for not conducting house-to-house survey at the block level, not updating job cards, not preparing development plans and irregular reshuffle in the number and nature of work .
The report said that the department failed to utilize the available funds despite huge liabilities of Rs 426.90 crore. Thus the department proved inefficient for financial management. Delay in release of funds also cost the department an interest of Rs 18.70 crore. Widespread manipulation of monitoring software (NREGASoft) and certified financial accounts has come to the fore. The report found that the department did little to maintain transparency in release of payments and execution of works. Audit also detected bogus payments and fictitious works, which indicated that the guidelines were not being followed.