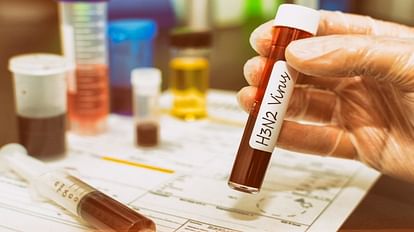 H3N2 Virus
– Photo: iStock
Expansion
The family members of the H3N2 Influenza infected youth found a day ago in village Sinthala of Bhuna sub-division of Fatehabad and the team of the Community Health Center on Sunday surveyed 10 nearby houses, but no symptoms of infection were found in any of them. Due to this no sample was taken. The health department is monitoring the infected youth. The condition of the young man is fine. That's why he has been kept away from the family by isolating him at home.
At the same time, seven patients of Influenza (H3N2) have been found in Chandigarh since January. At the same time, infection has been confirmed in 50 samples from Punjab, Haryana, Jammu Kashmir, Jharkhand and Uttar Pradesh. The report of all these patients has come positive during the investigation in PGI. It is a matter of relief that the condition of none of these patients is serious.
it is different from corona
Dr. RS Bedi, former president of the Indian Medical Association, said that it is different from corona because Kovid affects the lower respiratory tract. Whereas, H3N2 affects the upper respiratory tract. It causes fever, cough, cold, and prolonged burning sensation in the throat, nose and eyes. Dr. Bedi told that the symptoms of both are similar and it spreads rapidly.
save like this
Wash hands regularly.

Use a mask.

Avoid going to crowded places.

Avoid touching eyes and nose.

Consume more fluids.

Eat fresh food.

Boil water and drink it.
it can be dangerous to do so
handshake and hug.

Eating at one place with a large number of people.

Spitting in public place.

Taking antibiotics and other medicines without a doctor's advice.
464 patients suffering from cough and cold reached flu corner
Patients were also treated on Sunday in the flu corner set up in the district hospitals of Haryana. None of them was found to be infected with influenza H3N2. 14 patients suffering from cough and cold arrived in Bhiwani, 50 in Panchkula, 350 in Gurugram and 50 in Palwal. After preliminary examination, the doctor posted in the emergency department prescribed medicines to the patients.