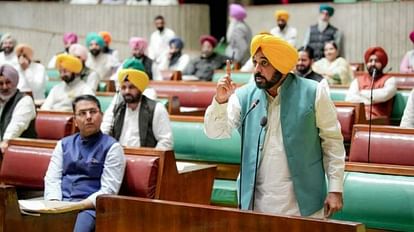 Punjab Legislative Assembly.
– Photo: Amar Ujala (file photo)
Expansion
The Bhagwant Mann government of Punjab will present its second budget on Friday. In view of the Jalandhar by-election and the Lok Sabha elections next year, the government may announce a big gift to the people of Punjab in the budget. All eyes are on the budget in view of the old pension scheme for government employees, guarantee of giving Rs 1000 every month to women, employment to youth and government's claim to increase the income of farmers.
In view of the government's efforts to bring investment in Punjab along with the agriculture sector, the budget is also expected to get some concession for industries. Finance Minister Harpal Singh Cheema will present his second budget in the assembly on Friday. The biggest challenge before Cheema would be to arrange funds for development schemes without putting any new burden on the people of the state, which is in debt of three lakh crore rupees.
The AAP government was successful in implementing several guarantees given to the people by the Aam Aadmi Party (AAP). In the new financial year 2023-24 also, the same old economic crisis remains in front of the Finance Minister. Although there has been some improvement in the collection of the state's own tax-revenue and non-tax-revenue, but 45 percent of the total revenue is going to repay the interest of three lakh crore debt, which has also increased this year.
The biggest expectation from the Finance Minister in this new budget is from half the population of the state, who are waiting for the fulfillment of the guarantee of Rs 1000 every month. For the old pension scheme, the government has to arrange money from its own resources and the Finance Minister cannot ignore this guarantee. Apart from this, the government could only arrange token money for schemes like construction of new medical colleges in the previous budget, funds will have to be arranged in the new budget to take such schemes forward.