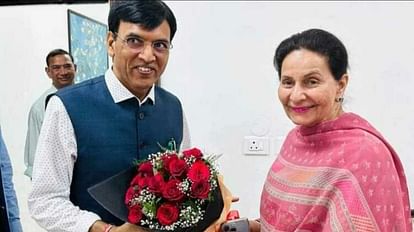 MP Preneet Kaur welcoming Union Health Minister Mansukh Mandaviya.
– Photo: Amar Ujala
Expansion
Union Health Minister Mansukh Mandaviya said on Sunday that the state governments cannot convert the central government's flagship program Ayushman Bharat-Health and Wellness Centers into any other scheme. He said that a state can discontinue the scheme but cannot change it. Mandaviya said that the state governments can promote any model of health on their own but cannot spend the central grant on any other scheme.
In fact, a few days back the Union Health Ministry had said that the Punjab government is converting Ayushman Bharat health and wellness centers into 'Aam Aadmi Clinics', a project of the ruling Aam Aadmi Party. The ministry had said that if the work of changing the centers continues, the central government will stop its grant.
The Health Minister was on a visit to Patiala on Sunday. During this he said that he came to know that they (Punjab government) would run the health and wellness centre. He said that health and wellness centers should be run and if they run then naturally our grant will continue.
Health should not be an issue of politics, it is about citizens. Punjab Health Minister Balbir Singh said that Mandaviya had a detailed discussion related to the health sector of the state. He claimed that the Union Minister appreciated the holistic health care model that the Mann government is implementing in Punjab.
For the first time a health minister visited the center
Mandaviya made a surprise visit to a NEET-PG exam center in the city. There he also interacted with the parents of the candidates. According to the Health Ministry, this is the first time that the Union Health Minister has visited the center of National Board of Examinations in Medical Sciences (NBEMS) during the examination.
,