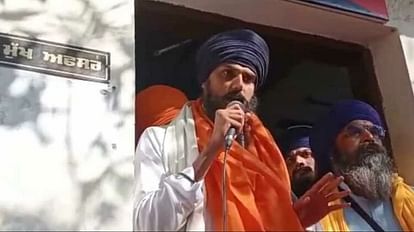 Amritpal addressing supporters at the main gate of the police station.
– Photo: Samvad News Agency (File Photo)
Expansion
Bir Davinder Singh Sandhu, who was close to Deep Sidhu, the founder of 'Waris Punjab De' organization, has said that the path Amritpal is following is going to destroy Punjab. The dream of Khalistan for which Amritpal is carrying out his activities will neither lead to Khalistan nor will the Sikh community remain united. On the contrary, Punjab and Punjabis will suffer a huge loss.
Sandhu said that Amritpal should have made the situation clear on the very first day itself regarding the Mercedes car he had received as a donation. The frequent change in the statements of Amritpal and his close ones regarding the car raises many questions. Amritpal should also have clarified before the Sangat whether the car was donated to him or to the organization. If Sangat donates, she does not donate with half-incomplete documents. Why is its documentation not complete?
It should also be clarified whether the people who have donated the car really belong to Jarnail Singh Bhindranwale's family or not. The company is being misled by such things. Ragi Randhir Singh, who lives abroad, is said to have bought this car from a leader of Gurugram and donated it to him. Randhir Singh, a resident of village Bhura Kohna in Tarn Taran district, is currently abroad. It is discussed that money was spent by Randhir for this and through his brother Ravel Singh this car reached Amritpal. Randhir's family is close to Jarnail Singh Bhindranwale's family.
No action even after 7 days
Even after seven days have passed since the attack on Ajnala police station, no FIR has been registered by the police. Six policemen including an SP were injured in this attack. Although DGP Gaurav Yadav has claimed to have taken action. So far the police have searched more than 160 videos. A detailed report has also been prepared on this. In these videos, Khalistan supporters were clearly seen lathi-charging and pelting stones at the police. Statements of some eyewitness shopkeepers around Ajnala police station have also been recorded. Videography has also been done from the drone of the spot.
Will attend Shri Akal Takht Sahib if called: Amritpal
Amritpal said that there was no violation of decorum in Ajnala. If the report of the committee constituted by Shri Akal Takht Sahib's Jathedar Giani Harpreet Singh goes against us and we are called, we will definitely go to explain it. This committee has been asked to submit its report in 15 days. Please inform that Amritpal along with his supporters attacked the Ajnala police station on 23 February.
,