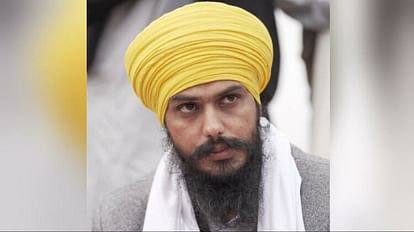 Amritpal Singh.
Photo: twitter
Expansion
Reacting to hardline Sikh preacher and self-styled separatist leader Amritpal Singh's statement that he does not consider himself a citizen of India, former diplomat KC Singh on Wednesday said that Amritpal Singh should surrender his Indian passport and declare himself stateless to the United Nations. Identity card should be taken as a refugee by telling a person, because the Khalistan he is talking about is in Amritpal's mind only.
KC Singh, who was India's ambassador to Iran and UAE and has entered politics in Punjab by forming the political party Sunehra Punjab Party, said that Amritpal does not consider himself an Indian citizen. In this case, he should get recognition as a stateless person from the United Nations High Commissioner (UNHCR).
Significantly, Amritpal had termed the Indian passport as just a travel document and said that the passport does not make him an Indian. Amritpal also drew comparisons between Hindu Rashtra and Khalistan while defending his demand for a separate state. Also, took a U-turn with his remarks on Union Home Minister Amit Shah.
Reacting to Amritpal's statement, KC Singh tweeted, 'He was in Dubai on an Indian passport. He has declared himself as an Indian citizen. He should surrender his passport. He should get an ID from UNHCR as he has only Khalistan in mind. Government of India should send him to any country or put him under house arrest as a foreigner.
,