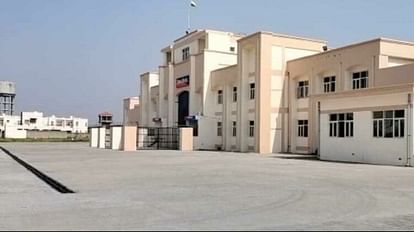 Goindwal Sahib Jail.
– Photo: Samvad News Agency
Expansion
After the gang war in Goindwal Sahib Jail, high alert has been issued in the jails of Punjab. The prison department has ordered a review of the security of gangsters lodged in all jails. Presently more than 50 gangsters are lodged in Bathinda Central Jail. All these gangsters have been kept in high security. After this incident, the jail administration conducted an investigation in the high security zone of the jail and as a precaution, the gangsters of different factions lodged there were separated so that they could not attack each other.
Please inform that the incident of gang war in Goindwal Sahib Jail has been executed by the Lawrence Bishnoi gang. At the behest of Goldie Brar, gangsters have killed Mandeep Toofan and Manmohan Singh. Both the gangsters who lost their lives belonged to the Jaggu Bhagwanpuria gang. In such a situation, there is a possibility of increasing gang war in the jails of Punjab. The reason for this is that many gangsters of both the gangs are lodged in different jails of Punjab. And gangster Jaggu Bhagwanpuria is lodged in Bathinda Central Jail.
The condition of 10 jails is pathetic
The condition of the jails of Punjab is very pathetic. On the one hand, where there are more than the number of prisoners in them, there is a need for immediate renovation of 10 jails. Also, the jails are facing shortage of staff. This was revealed some time ago in a report prepared by Punjab State Legal Services Authority in collaboration with Common Wealth Human Rights. After this, the Punjab government is also conducting its investigation on the basis of this report. It is expected that the reform process will start soon in this direction. However, it has also come to the fore that the pace of construction of new jails is very slow. Most of the jails are very old.
In Punjab jails, 42.1 per cent of the inmates are lodged under the Narcotic Drugs and Psychotropic Substances (NDPS) Act. The authority covered 24 jails in the state in its report. An interaction was held with 660 inmates as well as representatives of prison officials and legal service institutions. Many things were highlighted in the report. Not only this, women officers were not being recruited for senior posts in jails. Out of 103 officers, only three women officers are posted.
Apart from this, it was also revealed in the report that there is a shortage of funds in various units running for prisoners in jails. Because of this, the prisoners are not even able to get proper payment. However, after the coming of the new government, there has been a lot of improvement in them.
,