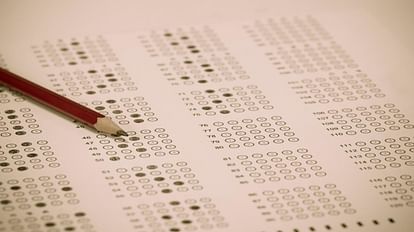 code picture
– Photo: Social Media
Expansion
The Punjab School Education Board (PSEB) Class 12 annual examinations will begin from Monday. 3.16 lakh students will appear in the examinations. The preparations related to the examinations have been completed by the board. Special arrangements have been made by the board to make the examinations cheating free. There will be complete ban on carrying mobile and other items inside the examination centers. If anyone is caught copying, the investigation team of the board will make a video.
From the center incharge to everyone's statements will be taken. 2215 examination centers have been set up across the state for the examination by PSEB. In this, 299744 students of 3914 government, aided, affiliated and associated schools will appear. Rest of the students will be from other schools.
Sensitive examination centers have been identified by the board, the board will keep a special eye on them. Section-144 will remain in force outside all the examination centres. Students will be allowed to go inside the examination center. Apart from this, principals, officers and retired employees of the education department have also been deputed for checking the examination centres. The board has also appealed to all to follow the rules strictly.
Special control room constituted for examination
There will be general Punjabi paper of class 12th on Monday. The duration of the exam will be three hours. Additional 15 minutes will be given to the students to fill the OMR sheet. The exam will be conducted from 2 pm to 5.15 pm. Kovid guidelines will be followed in the examination. control room for exam 0172-5227136 Will have to contact. Also by mail controllerpseb@gmail.com can be contacted at
,