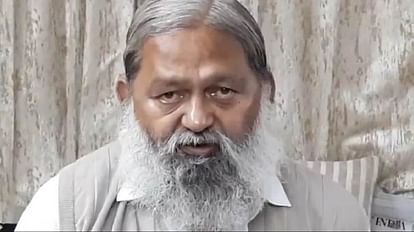 Anil Vij
Photo: File photo
Expansion
Haryana's Home and Health Minister Anil Vij is busy these days in uprooting the roots of drug mafia in the state. Properties of drug peddlers are being demolished. Even though CID is not with them, but they have developed their own information system in the police department itself, through which all the information reaches them. Amar Ujala's state bureau chief Praveen Pandey had a detailed discussion with him on political and departmental issues. Here are the highlights of the conversation…
You have been in the health department for a long time, do you want to do something new?
I want to give so much facility of treatment to every person of Haryana that no one has to go round due to lack of treatment. If the patient gets proper treatment in the district hospitals, then he will run less towards PGI and AIIMS. We have learned many lessons from the Corona period. For the future, I will make Haryana's health infrastructure such that there is no problem for the next 50 years.
It has been a long time in the Home Department as well, what changes do you want to make here?
The sense of responsibility in Haryana Police has come in our government. Many major changes have been made, Dial 112 has been started. SIT has been formed in many cases. I myself do the hearing of the people of the entire state. Police officers know that work cannot be done without working in the Home Department. This is the change which was not there in the previous governments.
You do not have the CID, whereas the Home Minister should have it?
My own information system is so effective that it doesn't matter to me whether or not I have CID. Information comes to me from all over the state. My information system in the police department is different. I have all the information about what is happening where and when. If I don't have this information then it is not so easy to run the department.
Officers are upset due to lack of promotion in Haryana Police?
We have removed the disparity in promotion. This problem was happening maximum in the commissionerate. That is why four and a half thousand new posts have been created. With this effort of ours, police personnel and officers of Ambala, Karnal, Hisar and Rohtak ranges will get promotion like Faridabad and Gurugram.
IPS officers are not getting promoted. Have officers of his batch been promoted in other states?
In this context, I have spoken to the Chief Minister. Soon this system of promotion will also start. There are some cases in which technical difficulties are being faced. Soon those technical problems will also be removed and promotion will start as per the normal process.
Do you have any tussle with Chief Minister Manohar Lal ji?
No, we have no dispute with them. He is the Chief Minister of the state and the leader of our party. Yes, where I find something wrong, I express my protest. Now people give this matter the form of controversy, so it is not my fault. I have always said that CM is supreme.
When many departments were merged, could there have been a merger of CID Vigilance or Jail with the police?
I have a different perspective of looking at things. A lot can happen, but many times it doesn't. I have always given priority to work in life and on the basis of that I have reached here today. I never asked that I want a particular department. I give my full time in the departments that are there. I retrieve files from home. I go to the secretariat on time and meet the public.
Drugs are not being controlled in Haryana, what is the reason?
To control drugs, we have created Narcotics Control Bureau. There are frequent meetings. People are also made aware. Strictness has also been done in the districts adjoining Punjab and Uttar Pradesh. Its results will be seen soon. Previous governments never paid any attention to this. For the first time in our government, an anti-drug campaign has started. Assets made from drug trafficking have been destroyed.
,