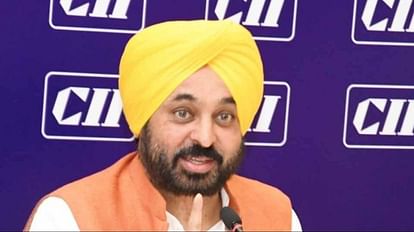 Bhagwant Mann
Photo: @BhagwantMann
Expansion
The Aam Aadmi Party (AAP) government of Punjab is going to fulfill the guarantee of giving one thousand rupees per month to women this year. Provision will be made for this scheme in the first regular budget of the Bhagwant Mann government to be presented in the first week of March. According to sources in the Finance Department, a decision has been taken to make a provision of Rs 12,000 crore for this in the budget for the year 2023-24. This scheme will be implemented from the month of August this year.
The Aam Aadmi Party, during the Punjab Assembly election campaign, had guaranteed Rs 1,000 per month to all married and unmarried women above the age of 18 in the state, so that women can spend as per their wish and financial help can also be provided to domestic women. .
However, this scheme could not be implemented even after 10 months of the government's tenure, for which the government had to face criticism from the opposition. On the other hand, according to the sources of Aam Aadmi Party Punjab, since last year, while preparing this scheme at its own level, the government has collected district-wise data of eligible women, after finalizing the scheme will be implemented from August 2023.
It is noteworthy that after taking oath in March 2022, the Bhagwant Mann government released the budget for the remaining period of the financial year. Under this, the government has given 300 units of free electricity every month, Aam Aadmi Clinic on the lines of Delhi, Rs 1 crore to the families of martyred soldiers and policemen, fulfilling guarantees of one MLA one pension and 26,000 government jobs in the first 10 months. Along with giving, has claimed to fulfill the important guarantees given to the public. The state government will now fulfill the guarantees related to women in the new budget.

Business and employed women will be out

On the other hand, information has also been received from the Finance Department that contrary to the electoral guarantee, the state government while implementing the said scheme, women who are in business or job and are income tax payers may be kept out of this scheme. All the remaining women and girls will be included in this scheme and an amount of one thousand rupees will reach the bank accounts of the concerned women.
The scheme will be implemented through the Department of Social Security, Women and Child Development. According to the data of the State Election Commission, there are 1.02 crore women voters in Punjab at present, which means that a large number of these women will be a part of this scheme.
,