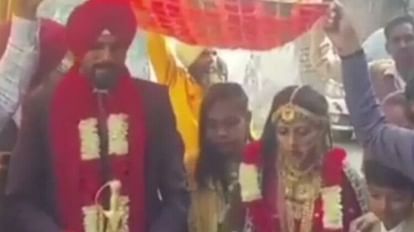 The wedding took place at the cremation ground in Amritsar.
Photo: Samvad News Agency.
Expansion
The baraat came to a cremation ground in Mohkampura area of ​​Amritsar. The rituals of marriage were completed in the cremation ground itself and the doli of girl worship was also sent off from there itself. This is the first incident that a doli has been raised from a crematorium. The newly married couple started their new life at the cremation ground at Billa Wala Chowk in Mohkampura.
The girl's family is poor and lives in the cremation ground itself. The girl Pooja lived with her grandparents. Grandfather has died some time ago. Now grandmother and granddaughter are living in the small room of the old house built in the cremation ground. Grandma Prakash Kaur was worried about Pooja's marriage. The family being poor could not book the palace for the daughter's marriage. The residents of the area marry off the daughter with the help of baraat food, shagun, material needed for the family, etc. and from here the doli is sent off with full respect.
Residents of the area, Ashok Kumar, Mandeep Singh and Rajesh Kumar told that this marriage has been done at the cremation ground near Joda Phatak to Billa Wala Chowk. It was here that the grandmother and one of her granddaughters had been living for a long time. Grandma's age is also very high. The residents of the area found a boy for the daughter and got her married. The boy's family also did not object to him marrying a girl from the family living in the crematorium. Due to which the doli was sent off from the cremation ground after completing all the marriage rituals with the cooperation of the people. Arrangements were also made for food and drink for the procession by putting confectioners there. The residents of the area said that there is no place holier than the crematorium. Everyone has to come here one day or the other.

,