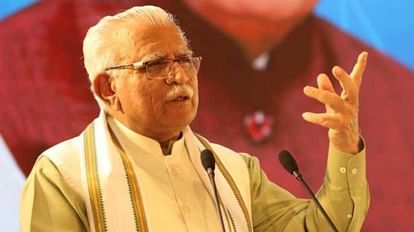 Haryana Chief Minister Manohar Lal.
Photo: @mlkhattar
Expansion
In Haryana, the officials of the Chief Minister's Office have taken over the command to end the growing conflict between Sarpanchs and the government regarding e-tendering. The Intelligence Department has taken feedback regarding the new system from each and every sarpanch of every district. Along with this, suggestions have also been sought as to where the protest can finally end.
The officials have prepared the report on the basis of talks with the sarpanches. Most of the sarpanchs have given the opinion that if the limit of development works is increased from Rs.2 lakh to Rs.10 lakh without tender, then the movement can end. The officers have reviewed and now this report will be submitted to Chief Minister Manohar Lal. It is expected that the government can increase this limit from two to five lakhs.
Under the new system, the state government has given approval to get works up to Rs 2 lakh done in panchayats without tender. E-tendering will have to be done for development works of more than this amount. The new panchayats are opposing this.
Sarpanchs say that they should be given financial powers up to Rs 25 lakh without tender as before. E-tenders should be made for the amount above this. Chief Minister Manohar Lal and Panchayat Minister Devendra Singh Babli have made it clear many times that the government will not go back on the decision of e-tendering.

On the other hand, the sarpanch is also continuously agitating. Last week, the high officials of the Chief Minister's Office held a meeting with the Director General of the Panchayat Department and inquired about the new proposals. Along with this, the Intelligence Department has prepared a report after talking to the sarpanches from all the districts on the new and old system.
New and educated sarpanchs have agreed that the tender system is long and the amount of two lakh rupees without tender is very less to get the work done immediately. If the government does it up to Rs 10 lakh, then a middle way can be found.
,