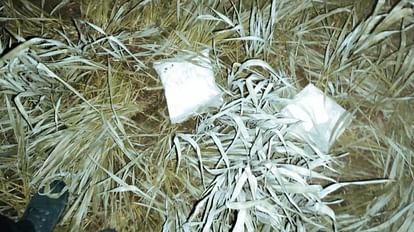 Recovered Packets.
Photo: Samvad News Agency.
Expansion
BSF opened fire on a drone returning to Pakistan after throwing three packets of heroin on the Indian border in Fazilka. However, the drone safely entered Pakistan. During the search operation, three packets of heroin have been found in the field near the border village Ghadummi, in which 2 kg 256 grams of heroin was found, the international price of which is estimated at 13 crore rupees.
According to intelligence sources, near border village Ghadummi, BSF jawans saw Pak drone activity in the sky at 2 am on Saturday night, BSF has also fired to bring it down on the ground. But the drone entered Pak safely. BSF has recovered three packets of heroin from the farm during the search operation. It contained two kg 256 grams of heroin. Whose cost is estimated at thirteen crore rupees.
Karunanidhi Tripathi, Commandant of BSF Battalion-55, says that during patrolling, the jawans found packets of heroin in a white envelope in the field. One envelope was torn. The farmer from whose field heroin was found is being interrogated. BSF is keeping a close watch on the drone coming from Pakistan. BSF also maintains a very good rapport with the villagers of the border villages. The villagers also immediately inform the BSF about the drones hovering in the sky.
,