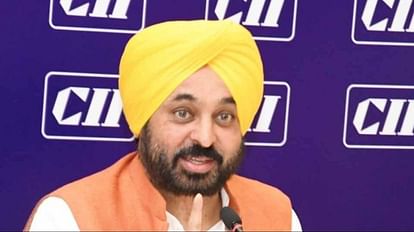 Bhagwant Mann
Photo: @BhagwantMann
Expansion
The Punjab cabinet on Friday approved the new Industrial and Trade Development Policy-2022 just ahead of the Investors Summit to be held on February 23-24. This policy will be considered effective from 17 October 2022. Under the new policy, it will provide "Employment Generation Subsidy" to industries employing natives of Punjab.
Under this, employment generation subsidy up to Rs 36000 per employee per annum and Rs 48000 per annum for women SC, BC and OBC employees will be provided to the main units for a period of 5 years. Through this policy, the state government aims to attract industrial investment of Rs 5 lakh crore.
Major Provisions in the Policy
Power will be made available to industries at a fixed rate of Rs 5.50 per KVAH for five years.
Projects with investment up to Rs 25 crore will be approved at the district level. With this, big projects will be approved at the state level.
To promote basmati shellers in the state, the market fee of sheller units has been waived off.
Micro and small scale industries, export units and service enterprises engaged in research and development activities will also be provided 50 per cent capital subsidy on fixed capital investment up to Rs 50 lakh.
Food processing industries will be given 100% market fee / 100% exemption of RDF for a period of 10 years, 50% capital subsidy will be given to units of IT up to 25 million.

15 industrial parks, 20 rural clusters will be formed

Under the new policy, 15 industrial parks and 20 rural clusters will be developed across the state, catering to the local needs of different industrial regions of the state. Under the new policy, integrated industrial townships will also be set up with the aim of attracting investment. Regarding the facility of exemption in electricity duty, the electricity department will now issue an online notification through the Invest Punjab Business First portal. To promote the MSME sector, the Industries and Commerce Department of the state will set up a common facility and technology center named "MSME Punjab" as a wing. For this, the state government will also implement the scheme "MSME" of the Government of India aided by the World Bank.

"Punjab Innovation Mission" for start-ups

Startups will be promoted through "Punjab Innovation Mission" with special focus on women, scheduled caste and other entrepreneurs. Under this, Divyang entrepreneurs, startups from rural background, startups led by women and other startups will be given relaxation in public procurement on the basis of experience and turnover. The "Punjab Skill Development Mission" will set up specialized skill development centers in the state and provide skill training facilities in partnership with major employers. Under the new policy, "Invest Punjab Business First Portal" will be integrated with "National Single Window Portal" and will also include NHAI, Public Works Department, RDA, Irrigation Department and Forest Services.
Concession to amusement, adventure parks

The new policy also provides that electricity tariffs will be fixed at Rs 5.50 per KVAH for five years and manufacturing units in approved industrial parks, amusement parks, adventure parks developed in an area of ​​at least 50 acres. , IT will be applicable for IT Unit. Financial concessions will also be made available to new and existing units under the new policy. Along with this, financial concessions for rehabilitation of large industries, large projects, MSMEs and sick large units, special concessions for units in border areas and start-ups in the same area and financial concessions will be given to the first two units of service and construction sector.
100% exemption in stamp duty, CLU, electricity duty

Manufacturing of autos and auto accessories including electrical vehicles, sporting goods including fitness equipment, hand tools including power tools and machine tools, agricultural machinery and equipment, paper based packaging units, shredding units and "one district one product" It has been included in the category of special sector for giving concessions. Financial concessions include 100% exemption from stamp duty, 100% exemption from CLU/EDC in particular sectors and anchor units, besides 100% exemption from electricity duty for 7-15 years.

Logistics Park to be built in Mohali's Sector-102
A logistics park will be developed in Sector 102 of Mohali and 50 per cent of the external development expenditure in the industrial area will be spent on improving industrial infrastructure. In order to promote the development of private industrial parks, industrial parks set up in a minimum area of ​​25 acres (10 acres for IT) will get 100% exemption in CLU/EDC on industrial and EWS residential portion. Re-established private industrial parks will be given an additional concession of capital subsidy of 25 per cent or a maximum of Rs 25 crore.
,