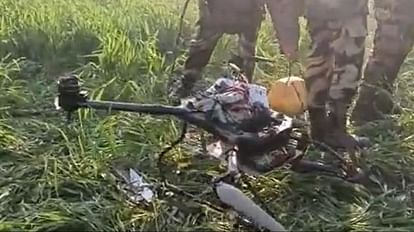 Pakistani drone shot down by BSF.
Photo: ANI
Expansion
Border Security Force personnel shot down a Pakistani drone that entered the area of ​​Kakkar Post village on the Indo-Pak border on the intervening night of Thursday and Friday. The BSF recovered 5 kg of heroin from a yellow colored packet tied with the drone during a search operation in the area in the early hours of Friday. The BSF officers, along with officials from Punjab Police and other agencies across the country, carried out the search operation for hours, which continued till 4 pm.
According to a BSF spokesperson, the force personnel were patrolling the intervening night of February 2 and 3 in border village Kakkar area under HQ BSF Khasa, Amritsar. During this, at around 2.30 am, BSF jawans heard the sound of a drone entering Indian territory from Pakistan side. On this, the jawans targeted him and fired. Meanwhile, the jawans heard the sound of something heavy falling on the ground, so they surrounded the entire area and informed their top officials.
Top officials of BSF immediately shared this information with officials of Punjab Police and other intelligence agencies. The BSF along with police and officials of other agencies launched a search operation in the entire area on Friday morning. During the search, officers recovered a drone (quadcopter) from a field and a large packet containing yellow colored adhesive lying a short distance away. The officials recovered 5 kg of heroin from inside it.
Meanwhile, after taking possession of the drone, the officials of the agencies started investigating that from which area of ​​Pakistan it entered the Indian territory and in which areas it made so many rounds. On the other hand, the police started questioning the three suspects of Seemant village by taking them into custody. It is suspected that the three suspects were trying to pick up heroin dropped by Pakistani drones. At present, officials of intelligence agencies along with BSF and police are engaged in the investigation of the case.
,