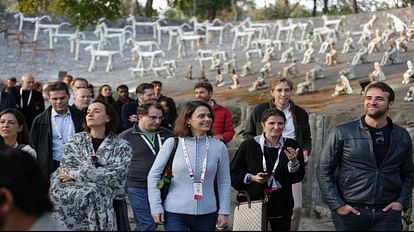 Representatives of various countries who reached Chandigarh for G-20 visited Rock Garden. During this, special arrangements were made by the administration.
– Photo: Amar Ujala
In the two-day meeting of the G-20, India stressed the need for greater cooperation at the international and global level for economic stability so that the whole world can benefit from it in the form of sustainable growth. This information was given by Finance Ministry's Economic Advisor Anu Mathai, Director Praveen Kumar, Joint Secretary B Purusharth after the meeting of G-20 International Financial Structure Working Group at Lalit Hotel, IT Park on Tuesday.
Anu Mathai said that there is a need to assess what is hindering economic stability. Many international organizations like IMF, World Bank, seven-eight regional development banks also participated in the meeting, which have paid attention to these aspects. Told that in this meeting, the International Financial Institute discussed topics like funding for development issues, Sustainable Development Goals, poverty alleviation.
Said that in two days, all the countries agreed on the agenda prepared by India and kept their respective views. The discussions that took place in the meeting will be kept in the meeting of G-20 Finance Ministers and Central Bank Governors. This meeting will be held in Bangalore on 24 and 25 February.
Not only Pakistan and Sri Lanka, talks on the scenario of the whole world

On the issue of the economic condition of Pakistan and Sri Lanka, the officials said that there was no discussion on any one country in the G-20 but discussions were held on the scenario of the whole world. Regarding the crisis response during the pandemic, it was said that there have been talks on preparing such a mechanism, in which how to advance the debt payment of poor countries so that they get time to return it. On the question asked about terror funding, it was said that the Financial Action Task Force (FATF) organization discusses these topics in its annual program.

Countries also gave their opinion on CBDC

During the two days, the Reserve Bank also discussed the opportunities and challenges of Central Bank Digital Currency (CBDC). During the meeting, the experience of different countries on CBDC was known and its impact was also asked. It is running as a pilot project in many countries.
How to strengthen multilateral development banks, how to help debt-served poor countries with debt service challenges and under the G20 Common Framework, how to increase finance for development in different countries, how to strengthen international financial institutions It has been discussed in detail so that issues like pandemic and climate change can be overcome.
,