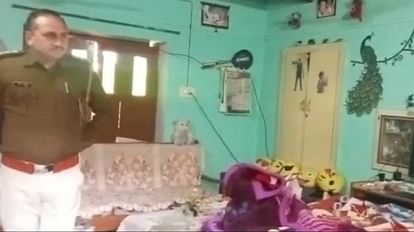 Three dead bodies found in the house in Bhiwani.
Photo: Samvad News Agency.
Expansion
Government school teacher, his wife and daughter living in a house in Nai Basti of Bhiwani died under suspicious circumstances. The bodies of all three were found in the same room. The police suspect his death due to the effects of poison. Whether it is a case of murder or suicide, the police is investigating. SP Ajit Shekhawat is on the spot with the entire police team. Sensation spread in the area due to the information of three deaths. Now the dead bodies are lying in the house itself.
Jitendra (45), a government teacher, was living with his family in a house in Nai Basti. Wife Sushila (42) and daughter Himani (16) also lived with him. On Friday, the bodies of these three were found in the same room. According to preliminary information, the death occurred due to consumption of poisonous substance. It is not yet clear whether he has consumed poison himself or has been fed by someone.
Government teacher Jitendra's duty was in the primary school near Guar factory in Bhiwani city. At present, it has not been revealed that what is the secret behind the death of these three. Police teams are engaged in investigation at the spot. Senior police officers have also reached.

Police is taking seriously the information about the death of husband, wife and child. Bhiwani SP Ajit Singh Shekhawat, SFL team, CIA staff police, cyber teams have reached the spot. The investigation is on. Police is also collecting information from the people around. Along with this, CCTV footage will also be investigated.

,