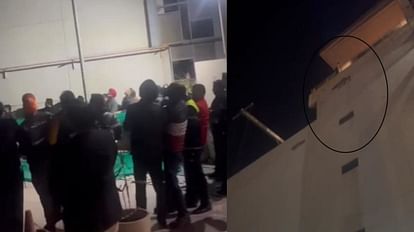 In Amritsar, a girl climbed the mall to commit suicide and people standing below.
Photo: Samvad News Agency.
Expansion
A girl attempted suicide by climbing to the seventh floor of the local Trillium Mall in Amritsar. As soon as the information was received, the police reached the spot and saved the girl. The incident is of Saturday night.
It is being told that the girl wanted to marry her boyfriend but her family members did not agree for which the girl staged a suicide drama to put pressure on her family members.
Amritsar ACP Virender Singh Khosa said that the police received information on Saturday night that a girl was trying to commit suicide by climbing on the seventh floor of Trillium Mall. She reached the food court located on the floor along the mall and from there she went towards the terrace. The police also arranged a trap in the ground to save the girl and kept her entangled in talks for some time. Meanwhile, the girl's family members were also called but the girl was adamant on committing suicide.
Meanwhile, some police personnel were sent to the seventh floor from another route. From there a male employee grabbed the girl by the arm and pulled her back. ACP Khosa told that the girl was in love with a boy and wanted to marry the same boy but her family members did not agree for this, due to which the girl tried to create pressure by doing this drama. Acting cautiously, the police rescued the girl. They told that the girl is being interrogated.
,