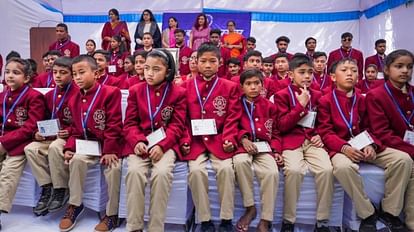 Bravery award winning children.
Photo: PTI
Expansion
The Indian Council for Child Welfare (ICCW) on Friday announced bravery awards to 56 children. These include three children from Punjab. All three not only showed their bravery in difficult times but also saved lives by risking their lives. Due to Corona, this time the prizes will be given to the winning children of three years together. According to the council, 22 children were selected for the year 2020, 16 for 2021 and 18 for 2022. All these children will be given medals, certificates and cash prizes.
Four children were saved by taking them out of the burning van

Three years ago in 2020, Amandeep Kaur of village Amar Singh Pindi of Longowal, who was selected for the Eklavya Award, saved the lives of four students from a burning school van while risking their lives. Amandeep was studying in ninth grade at that time. She was also traveling in the van at the time of the accident. The van had left the school when it caught fire. The driver stopped the van and got down to check. Meanwhile the fire spread. Amandeep saw that the doors of the van were locked.
He broke the glass of the van with a tool and got out. He then pulled four children out of the van, though four were burnt alive. After the accident, Amandeep Kaur told that she did not think anything, she did whatever came to her mind. His dream is to serve the country by becoming a police officer.
Kusum chased and nabbed two snatchers

Kusum Kumari of Jalandhar was selected for Shravan Puraskar. 15-year-old Kusum was coming home after studying tuition, when suddenly two bike riders snatched her mobile and ran away. Instead of getting scared, Kusum chased the snatchers and caught the snatchers with the help of the people. During this he also got hurt, but he did not lose courage. Kusum is a player of Taekwondo. He also used Taekwondo tricks to catch the snatchers. The incident was captured in the CCTV camera. Kusum's bravery was greatly appreciated. The then DC of Jalandhar Ghanshyam Thori greatly appreciated Kusum's bravery and gave a cash award of 51 thousand.

life was saved in landslide
During the landslide in Amarnath in the year 2022, Azam Kapoor of Punjab played an important role in saving the lives of many people. He made people aware about it, after which many people were able to save their lives. Due to this he has been selected for the award.
,