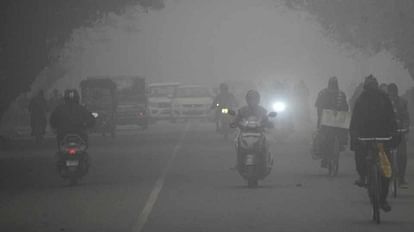 Weather news today:
– Photo: Samvad News Agency
Expansion
In many cities of Punjab and Haryana, the minimum temperature is running below zero. The night temperature in Bathinda and Gurugram touched -0.2 degree Celsius on Wednesday, leaving the cities reeling under severe cold. Although it was sunny in many cities of Punjab-Haryana including Chandigarh during the day, but at night the temperature reached the freezing point. According to the Meteorological Department, the weather pattern is going to remain the same for a few days.
Dr. Manmohan Sharma, director of Chandigarh-based Meteorological Department, told that for the coming few days, the minimum temperature of the cities of Punjab and Haryana will fall like this, the temperature is expected to be normal after the rains. At present, Punjab and Haryana experienced severe cold on Wednesday and the minimum temperature remained below normal at most places in the region.
According to the Meteorological Department, Bathinda and Faridkot in Punjab recorded minimum temperatures of minus 0.2 degree Celsius and minus 0.5 degree Celsius, respectively. According to the department, after four days of clear weather, there are chances of rain in both the states from January 23. According to the information, Amritsar recorded 2.9 degree Celsius, Ludhiana 2.8, Patiala 2.6, Pathankot 3.8, Gurdaspur 2, Moga 0.5 and Mohali 4.2 degree Celsius.
Whereas, the minimum temperature in Chandigarh was 3.3 degree Celsius. In Haryana, Narnaul recorded minimum temperature of 0.5 degree Celsius, Sirsa 1, Hisar 2, Karnal 2.4, Rohtak 2.8, and Ambala 4.9 degree Celsius. Punjab, Haryana and Chandigarh are in the grip of severe cold for more than three weeks.
,