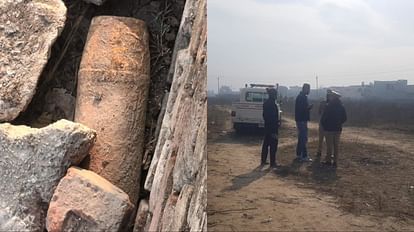 Cannon ball found in military ground of Khanna
Photo: Samvad
Expansion
On Wednesday morning in Khanna, Punjab, an atmosphere of panic was created among the people after a cannon shell was found in the military ground of Khanna. The military ground is adjacent to Khanna's vegetable market, which is densely populated. The cannon ball was found fallen on the wall adjacent to the vegetable market.
According to the information received, there is a lot of crowd in the vegetable market early in the morning, a person from the same crowd went towards the military ground to go to the toilet, then he saw something like a cannon shot read.
After which he informed about it to the agent working in the market. The jobbers reported this to the concerned police station, soon after which the police force along with Khanna's SSP reached the spot and got the adjoining area vacated.
DSP Gurmeet Singh posted on the spot told that it is a cannon ball, in view of the security, we have got the adjoining area vacated. We have told people to stay away from it and have also deployed police force so that no one goes near the bomb. We have given this information to Jalandhar bomb disposal squad, they will come and check the bomb or take it with them or defuse it here itself, it will be known only after their arrival.
,