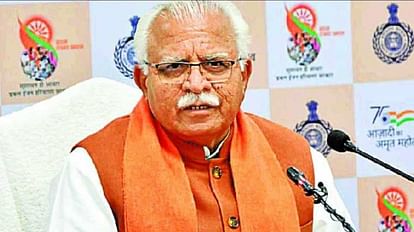 Haryana CM Manohar Lal.
– Photo: Amar Ujala (file photo)
Expansion
Chief Minister Manohar Lal will take the final decision regarding the pending board exams of 60 thousand students of class 10th and 12th of 1338 temporarily recognized schools in Haryana. Education Minister Kanwar Pal Gurjar himself will talk to the Chief Minister in this regard. This decision has been taken in the meeting of Education Minister Kanwar Pal Gurjar and Private School Welfare Association on Monday. The association has assured the minister that it will not make any fresh admissions in the remaining classes until the schools fulfill the norms. On this condition, the Education Minister will talk to the Chief Minister.
In the meeting held in Chandigarh, there was a long meeting between the Association and the Education Minister. In the meeting, the Private School Welfare Association has put forth the problem of students not being able to appear in the examination. On this, the Education Minister has assured that he will try not to spoil the future of any child, but in future the schools will have to follow the rules. After the ban of the association, Kanwarpal will now place this matter before the Chief Minister. Also next week the association will again meet the Education Minister and inform about the problems faced in fulfilling the rules.
The number of temporary recognized schools in the state is 1338. More than five lakh students are getting education in these schools. These schools have been getting temporary recognition every year since 2003, but in 2021, the Haryana government refused to give temporary recognition without fulfilling the rules. Now because the board exams of the 10th and 12th class students are to be held but till now their registration for the board exams has not been done. Due to this the future of 60 thousand students hangs in the balance. In this matter, Chief Minister Manohar Lal had assured to ensure the future of these students in the Vidhansabha during the winter session.
There will be a meeting with the education minister again

After the meeting, President of Private Welfare School Association, Kulbhushan Sharma said that it is a matter of examination, after talking to the Chief Minister, the children's examinations will be conducted. The rules will have to be fulfilled next year. We have put all the problems regarding it before the government. The conversation with the Education Minister was held in a cordial atmosphere. Within a week, we will put our demand again in front of the Education Minister.
,