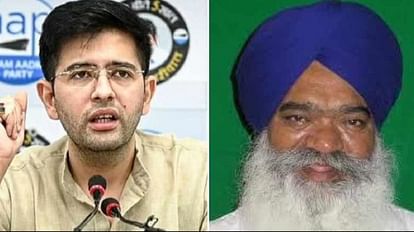 Raghav Chadda and Gurjit Singh Aujla.
– Photo: File
Expansion
Twitter war has started between Aam Aadmi Party leader Raghav Chadha and Congress Lok Sabha member from Amritsar Gurjit Singh Aujla over the connectivity of Sri Guru Ramdas Ji International Airport to the United Kingdom (UK). When Raghav Chadha talked about raising this issue strongly in the last two sessions of Parliament, MP Aujla laughed and said why he (Chaddha) is misleading the people? Because United Kingdom (UK) is connected to Amritsar Airport from the year 2018.
AAP leader and Deputy Chairman of Delhi Jal Board Raghav Chadha tweeted on Sunday and congratulated the Punjabis and said that now a direct flight is going to start from Sri Amritsar Sahib to London. Chadha also said that he had strongly raised the issue in Parliament for the last two sessions.
As soon as this was known, Lok Sabha member Gurjit Aujla replied to the tweet and wrote, "Sir, why are you misleading the people?" No new flights are going to start for London. For your information Amritsar airport is connected to UK (Birmingham-London) since 2018. First London Standard then Heathrow and now due to the commitment of SLOT, this flight will land at Gatwick.
,