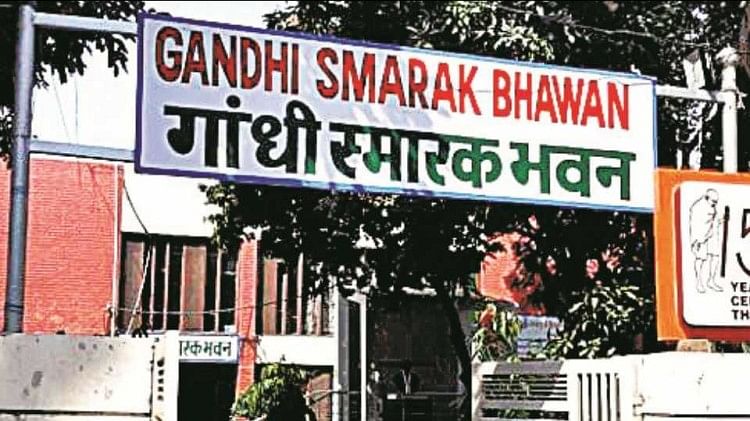 Gandhi Memorial Building.
– Photo: Samvad News Agency
Expansion
There is an allegation of encroachment on the Gandhi Memorial building located in Sector-16, Chandigarh. Police has registered a case against a total of 15 people in this matter. It is alleged that the employee of Gandhi Memorial Fund along with some others have misappropriated the fund and tried to take possession of the building.
Sector-17 (Central) police station on the complaint of Anand Sharan, secretary of Gandhi Memorial Fund, the organization that runs the memorial building, arrested Devraj Tyagi, Bhupinder Sharma, Naresh Sharma, Ishwar Aggarwal, Yogesh Behl, Devraj Tyagi, former director of Gandhi Memorial Building. Case against wife Kanchan Tyagi, their son Mudit Tyagi, daughter-in-law Aksha Raina, Anand Rao, Papiya Chakraborty, Vicky, Amit Kumar, Mohinder, Rama Devi and MP Dogra under IPC sections 419, 420, 458, 467, 468, 471 and 120- A case has been registered under B. police is investigating the matter.
It is alleged that Devraj Tyagi was posted as the director of the Gandhi Memorial Fund. He retired last year but was re-appointed on contract basis from May 1, 2022 to March 26, 2023. Meanwhile, the Gandhi Memorial Fund got information about his illegal activities, after which the matter was investigated. The allegations were found correct in the investigation and the services of Devraj Tyagi were terminated on 16 October 2022.
It is alleged that Devraj Tyagi organized a program on the occasion of Gandhi Jayanti and raised money through sponsorship in the name of unauthorized trust. Many eminent people were invited in the program. Investigation also revealed that several organizations have been registered in the name of Gandhi Bhavan. The FIR also mentions the Chandigarh Naturopathy Society, in which Dr. Devraj Tyagi has described himself as the secretary and MP Dogra as its chairman.

Devraj Tyagi is living with family in Gandhi Bhawan

It is alleged that Devraj got a trust named Gandhi Smarak Nidhi Bhawan registered in September last year and claimed to be the owner. When the managers of the institute came to know about this, they complained to the Administrator of Chandigarh, Banwarilal Purohit. It was also said that Tyagi was living illegally with his family at Gandhi Bhavan in Sector-16. He calls it his property.
Anand Sharan told that many times Devraj Tyagi has been caught in illegal activities and he has also apologized. He was forgiven by the institute but he did not desist from his antics and continued to indulge in illegal activities. He tried to capture Gandhi Bhavan and in this his family and others gave full support. Please inform that in this matter the administration had ordered a complete investigation by the police. After complete investigation, the police registered the case.
,