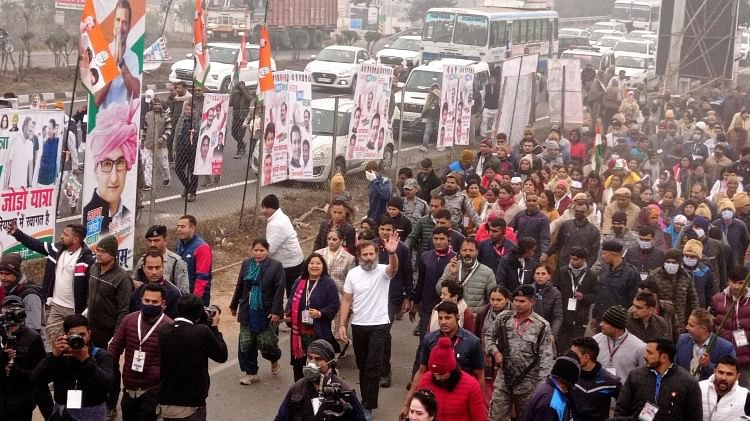 Bharat Jodo Yatra in Ambala.
– Photo: Samvad News Agency
Expansion
After connecting Rahul Gandhi's Bharat Jodo Yatra with the people of Haryana, the Congress has shifted the Yatra to the land of Punjab. Congress has been successful in giving the message it wanted to give in the state through this yatra. Now the Congress hopes that this visit will prove to be a milestone in forming the government in Haryana in 2024.
It is the responsibility of the Haryana Congress to maintain the message of Yatra among the public till 2024. In which the responsibility of former CM Bhupendra Singh Hooda, MP Randeep Surjewala, Kumari Selja and Kiran Chaudhary will be important.
At present, former CM Bhupinder Singh Hooda, who is burdened with lawsuits during the BJP rule, is excited with the crowd gathered in the yatra and with Rahul Gandhi. The crowd of ticket holders who gathered around Rahul during the yatra, will now be seen at Hooda's door, as at present the command of the party is also in his hands and the state president is also in his camp. The crowd ranges from army officers, entrepreneurs to sports personalities and film actors.
Rahul has praised the Haryana Congress and the crowd involved in the yatra. All three Randeep Surjewala, Kumari Selja and Kiran Chowdhary accompanied Rahul in the yatra, but the people of the state will also have to wait to see how many of these leaders will accompany Hooda in the coming days.
Hooda, 76, will reach Sirhind today in the bitter cold

76-year-old former chief minister Bhupinder Singh Hooda will leave for Sirhind at 4.30 am on Wednesday accompanied by his son Dipendra, state president Udaybhan and Haryana in-charge Shakti Singh Goyal. He will hand over the yatra to the leaders of Punjab at 6.30 am. After which will come back.

Rahul is as Pappu was: Manohar Lal

Chief Minister Manohar Lal said in front of the media here that Pappu like Rahul Gandhi was earlier and is still there. I don't understand the way they talk. Sometimes he becomes a devotee of Shiva, sometimes a priest… Even the Congressmen are confused by his words. I saw his press conference, there was no seriousness in it.
,