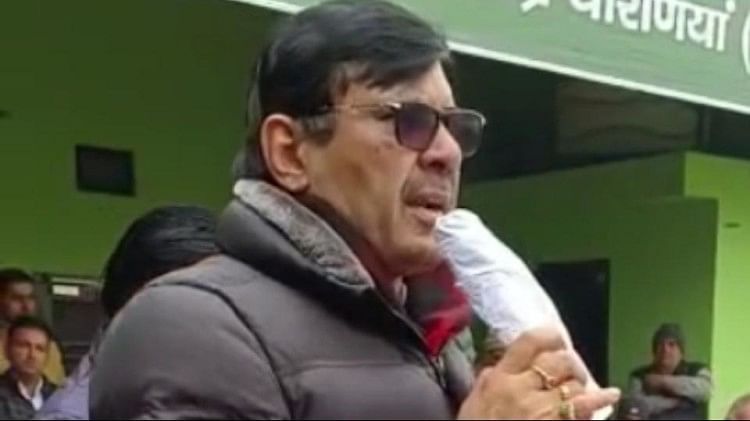 Panchayat Minister Devendra Babli speaking in the program.
Photo: Samvad News Agency.
Detailed
On January 23, Panchayat Minister Devendra Babli, who had come to invite the villagers in village Nadhodi for the sweet meeting ceremony to be organized at village Bidhaikheda, got agitated over the non-attendance of the sarpanch. The enraged minister also warned of re-election of the sarpanch through Right to Recall. Its video has gone viral on social media.
The minister had reached the village a day earlier on Sunday. The minister said that despite the Panchayat minister coming to the village, the sarpanch has not reached the program, it is his moral responsibility that he should have put the demands of the village before the minister. It appears that the Sarpanch is not concerned about the development of the village. An enraged Panchayat minister said that if 50 percent of the villagers give their consent in writing, then re-election to the post of Sarpanch can be held through Right to Recall.
Narendra Kumar became Sarpanch after winning by one vote

Significantly, there was a close fight between two candidates for the post of Sarpanch in village Nadhodi. In a tough fight, Narendra Kumar won the post of Sarpanch by defeating his rival Sunder Kumar by 1 vote. Sundar got 2200 votes while Narendra Kumar got 2201 votes.

In this regard, Sarpanch of village Nadhodi, Narendra Kumar says that he had gone to Ramdevra in Rajasthan. A day ago, he had received a call from the minister's brother. There was talk of coming to Ramdev temple in the village. If the minister had come to the temple, I would have sent my uncle as my representative. But the minister went to a program at the house of a person who is our political opponent. When the minister came to invite the entire village, he should have organized a program at a public place.
,