Sarita Mor, Amit Panghal and Anshu Malik.
– Photo: Amar Ujala
Expansion
25 sportspersons of the country were honored with the Arjuna Award at a function organized on Wednesday evening. Five players from Haryana are also included in these. These players are boxer Amit Panghal, athlete Seema Poonia, wrestlers Anshu Malik and Sarita Mor and badminton para-player Tarun Dhillon. In place of Amit Panghal, his mother received the award from President Draupadi Murmu. On receiving this great honor in the sports field, all the players said that this will boost their morale and inspire them to work harder.
Panghal's mother said to the President – come home sometime, will feed you millet bread

Boxer Amit Panghal's mother Usha met President Draupadi Murmu on Wednesday and invited him to come home. During this, he said that whenever you come home, he will feed you millet bread. Tell by tasting the taste of indigenous nutritious food. In a special conversation with Amar Ujala, the family members shared happiness over the honor given to the son. Usha, wife of Mayna resident farmer Bijendra Singh, said that my son Amit has won medals by performing brilliantly in boxing. It is because of his hard work that he is getting such a big honour.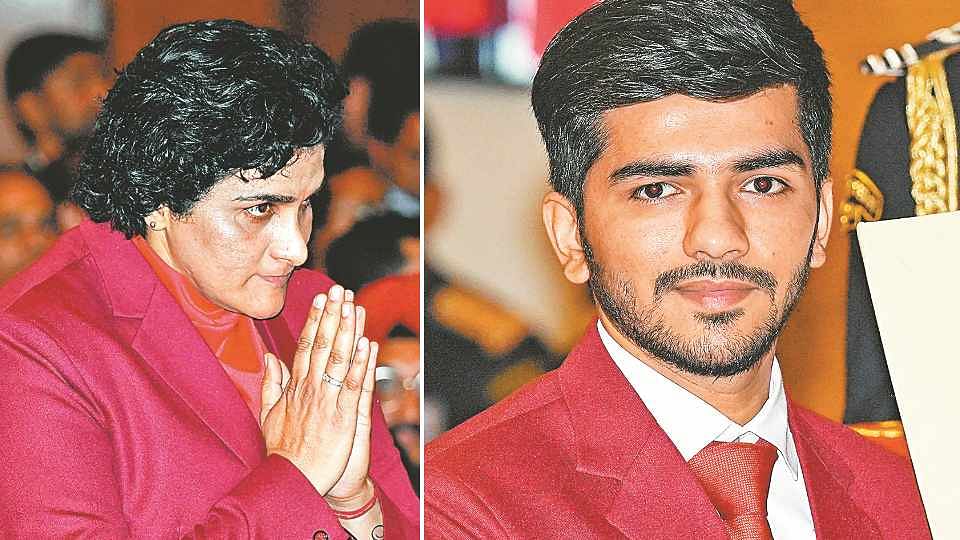 The President has given him the award with his own hands. It is a matter of pride for us. The father also expressed happiness over this achievement of the son. Parents and elder brother Ajay got emotional seeing their son getting the award. Uncle Rajnarayan said that Amit has performed brilliantly. We are proud of that. The son has increased the name and honor of the entire family not only in the country but also in the world.

Boxer Amit Panghal said that the Arjuna Award is a great honor in the sports field. Even though it was received late, it has been a great honor. This will boost morale. Arjuna Award has been received after Bhima Award. Earlier the Arjuna Award was to be received. Struggled for this too. Coach Anil Dhankhar also made a lot of efforts for this. He is most happy to have received the award. This honor will work to increase the enthusiasm in the coming competitions. My aim is to bring a gold medal in the Olympics for the country. I will work harder for this.
,