Aam Aadmi Clinic
Photo: @BhagwantMann
Expansion
The Bhagwant Mann government of Punjab has taken a big decision. Now 500 more new Aam Aadmi clinics will be opened in the state. The government will dedicate them to the people of the state on January 26. Earlier, CM Bhagwant Mann had started 100 Aam Aadmi clinics on August 15.
More than five lakh people have visited Aam Aadmi clinics during the last four months. Punjab Health Minister Chetan Singh Jaudmajra said that the Aam Aadmi Clinics across the state have received overwhelming support from the common people and the number of patients visiting the clinics has crossed eight thousand on a daily basis.
Jodamajra told that in all the districts common people are reaching common man clinics for treatment. So far 5,35,487 common people have got their treatment done at clinics and 69,870 people have got different tests done. Mohali leads in providing health services to the maximum number of patients.
According to the data, till November 14, Mohali has treated 80,406 patients and conducted 11,045 tests, while district Ludhiana stands second with 65,861 patients treated and 5,603 clinical tests. Similarly, district Bathinda ranks third with 44,223 patients and 5,922 clinical tests. Jodamajra said that 90 percent patients are getting treatment facilities in these clinics. This is the reason why the number of OPD patients in government hospitals has decreased.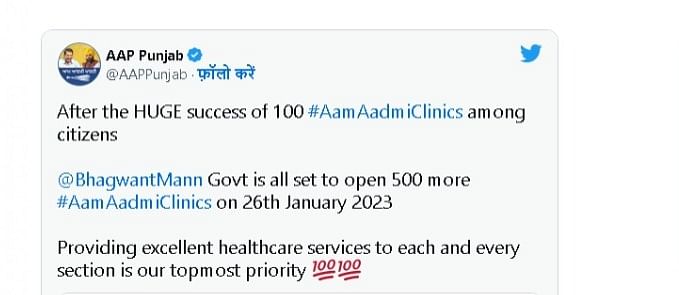 ,